Total.War.Shogun.2.Fall.of.the.Samurai-SKIDROW
Type:

Size:

22.35 GB

Uploaded:

2012-03-26T21:38:40+01:00

By:

HeroMaster

Seeders:

11

Leechers:

15

Comments

50

Info Hash:

ddd9859a331085a935430c0dadec70df2e636f63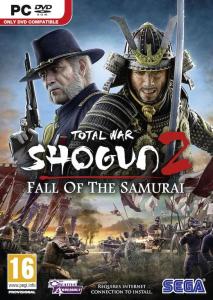 S  K  I  D  R  O  W
.the leading force.

proudly presents
Total War Shogun 2: Fall Of The Samurai (c) SEGA

26-03-2012....Release Date - Protection.............Steam  CEG
Strategy.........Game Type - Disk(s)......................3 DVD

RELEASE NOTES

The standalone expansion to the award-winning Total War: SHOGUN 2
explores the conflict between the Imperial throne and the last
Shogunate in 19th century Japan, 400 years after the events of the
original game. A dramatic clash of traditional Samurai culture with the
explosive power of modern weaponry.

Guide ancient Japan into the modern age, as the arrival of America,
Britain and France incites a ferocious civil war which will decide the
future of a nation.

Dramatic 19th century Japan setting
Based on the backdrop of the Boshin War period, the new campaign starts
in 1864, a time of growing resentment against Western colonial power
and influence. As Japan begins to modernise and industrialise, the
inevitable social and economic changes lead to increasingly militant
nationalism and antipathy towards the Shogunate.

INSTALL NOTES

1. Unpack the release
2. Mount or burn image
3. Install
4. Copy everything from the SKIDROW folder on the third DVD into the
game installation folder
5. Play the game
6. Support the companies, which software you actually enjoy

ADDITIONAL NOTES

This release contains:

Total War: Shogun 2
Total War: Shogun 2 Rise of the Samurai Campaign
Total War: Shogun 2 Fall Of The Samurai

Fully updated to latest update version

SPECIAL NOTES

We in Skid Row, would like to give our condoleances to the family and
friends close to Dycus.

Thanks for the time, some of us had the chance to work with you in

You will be deeply missed mate

GREETINGS

To all friends of the family and honorable rival groups

ascii art by the
godlike & terrific duo
malodix  irokos
titan artdivision


System Requirements:

OS: Windows 7 / Vista / XP 
Processor: 2 GHz Intel Dual Core processor / 2.6 GHz Intel Single Core processor, or AMD equivalent (with SSE2) 
Memory: 1GB RAM (XP), 2GB RAM (Vista / Windows7) 
Graphics: 256 MB DirectX 9.0c compatible card (shader model 3) 
DirectX®: DirectX 9.0c 
Hard Drive: 23 GB free hard disk space


False-Positive:

 



Poster:

 



Screens:

 


 



ENJOY!
Files: